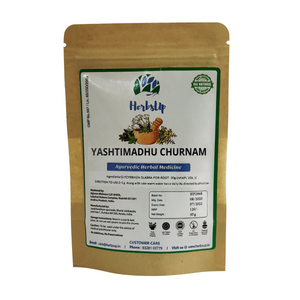 Product Information
1. Each unit includes 50gm of Yashtimadhu Churnam ( Licorice /Glycyrrhiza glabra) . Pack of 3 contains 3 X 50 Grams units, Pack of 4 contains 4 X 50 Grams units
2. Yashtimadhu Churnam consists of dried, unpeeled, stolon and root of Glycyrrhiza glabra Linn in powder form
3. This churna is completely suitable for internal consumption as per your physician's advice
4. Raw materials required are sourced and processed as per GMP norms and quality tested.
5. Manufactured under Ayush approved GMP and ISO 9001: 2015 certified facilities
6.Vegetarian Product
7. No added preservatives or flavor , a natural herbal powder
Therapeutic Properties
Licorice is used for the treatment of asthma, acute and chronic bronchitis and chronic cough. It is a mild anti-inflammatory for arthritis and rheumatism and is used to treat gastric, duodenal and esophageal ulceration or inflammation, heartburn and mouth ulcers.
Indications and Uses
1. Licorice lowers stomach acid levels, relieves heartburn and indigestion and prevents ulcer formation.
2. Through its beneficial action on the liver, it increases bile flow and lowers cholesterol levels.
3. In the respiratory system, its soothing and healing action reduces irritation and inflammation.
4. Licorice enhances immunity by boosting levels of interferon, a key immune system chemical that fights off viruses.
5. Its anti-allergic property is useful in allergic rhinitis, conjunctivitis and bronchial asthma.
6. When applied topically, Licorice can be used to fight dermatitis, eczema and psoriasis.
How to consume Yashtimadhu Churna
1. Mix 3 grams of Yashtimadhu Powder with water and consume 1 - 2 times a day. 2. Two grams of powder taken once with milk Churnam daily acts as a tonic, aphrodisiac and improves tone.