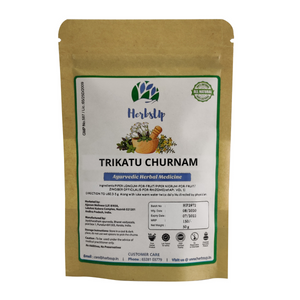 Key Product Information:
1. Each unit contains 50GM of Trikatu Churnam. Pack of 3 has 3 X 50GM Units, and Pack of 4 has 4 X 50GM units
2. Trikatu powder is a simple formulation made by mixing fine powders of three commonly used herbal drugs in equal quantities namely dry ginger (Shunthi), black pepper (Maricha) and long pepper (Pippali). Trikatu literally means 'three pungents,' because all the three ingredients are predominantly of pungent taste. All the three are spices used commonly in the kitchen and traded widely from India since ancient times.
3. This churna is completely suitable for internal consumption as per your vaidya's advice
4. Raw materials required are sourced and processed as per GMP norms and quality tested.
5. Manufactured under Ayush approved GMP and ISO 9001: 2015 certified facilities
6.Vegetarian Product
7. No added preservatives or flavor , a natural herbal powder
Therapeutic properties of Trikatu Churna:
Anti-inflammatory, analgesic, expectorant, digestive, carminative.
Indications and uses :
Trikatu is used in combination with honey to alleviate diseases such as colds, rhinitis, cough, breathlessness, asthma, dyspepsia and obesity. It also improves digestive power.
How to consume Trikatu Churna
Mix 3 grams of Trikatu churna with honey or water and consumer , 1-2 times a day
Trikatu Herbal Tea :
Trikatu can be consumed as a Herbal Tea(tisane) by taking 1 teaspoon cinnamon and ¼ teaspoon of the trikatu , steep it for 10 minutes in a cupful of water, add 1 teaspoon honey, and drink